What's new? asymmetrical earrings with gemstones and patina leaf danglers.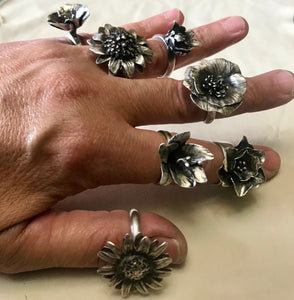 Garden of flowers
One of a kind sterling silver rings, hand fabricated from sheets of metal and wire with attention to the organic shape of the natural flower.
Hand pick from a garden of flowers: Hibiscus, Sunflower, dry Sunflower, Poppy, Lily, Daffodil and Daisy.
Hear what they say....
Cara tierney ***** Beautiful and comfortable work made by wonderful kind people. I am a proud owner of a ring that is definitely the most comfortable ring I have ever worn.
Erin Crowell ***** E&G made me a gorgeous custom turquoise ring and I am extremely happy with the results. It has a wide band but is very comfortable to wear as my everyday ring. They worked with me to find the perfect shade of stone as I love turquoise, but am pretty choosey with my colours. Together they make great jewellery that responds to current interests but maintains its own timeless brand.
Sue Stoate ***** I am extremely happy with my peace sign pendant with turquoise in-lay. The high quality materials and beautiful detailed work make this a superior product. Thank you for this amazing piece. I would highly recommend Galili Ellis Jewelry.
Lesley Buxton *****The heart-shaped necklace was beautifully crafted. I was impressed by the attention to detail. It arrived quickly and looked just like the photo. I love it. I can't wait to buy a pair of the hoops. Gorgeous work!
Michelle Potvin *****Purchased four matching necklaces as a surprise and thank you for my sisters. Galili Ellis Jewelry customized them for me (I wanted them a little smaller), produced them in a very short time and did not charge for delivery. Beautiful, unique and quality jewelry. Thank you Tami and Steve.
Laura Twiss*****Beautifully made designs suitably styled for my lifestyle.
Andrea Emery *****Very professional, beautiful and unique one-of-a-kind pieces!
Dawn Collings ***** Tami translates the beauty of metal and semi precious stones in a unique way - with each piece being a one-of-a-kind expression of creativity.